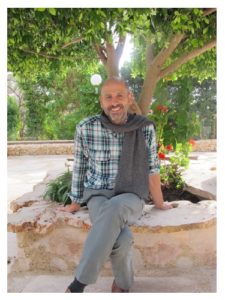 Dr Toufic Haddad is a social scientist whose work focuses on the political economy of development and conflict in the Middle East, and Israel-Palestine in particular.
Before joining CBRL as the Kenyon Institute's Deputy Director in October 2018, Toufic had an eclectic professional and academic career working as a journalist, editor, publisher, researcher, and consultant. He was promoted to Director of the Kenyon Institute and Deputy Director of CBRL in January 2020.
He has a BA in Philosophy and Middle East Studies from Trinity College; an MA in Near East Studies and Journalism from New York University; and, a PhD from the School of Oriental and African Studies (SOAS), University of London (Development Studies).
His PhD was transformed into Palestine Ltd: Neoliberalism and Nationalism in the Occupied Territory, published by I.B. Tauris in 2016, with paperback edition out in 2018. He is the co-author of two additional books and has extensively spoken and published on the Israel-Palestine conflict, featured in an assortment of books, print, television and online media, both academic and popular.
His research has been sponsored by London School of Economics' Middle East Centre, the Arab Council for Social Science, the Palestinian American Research Centre, and CBRL.
He has also lectured at SOAS, and guest lectured at King's College London, the Agha Khan University and Birzeit University.
---
Contact: Email