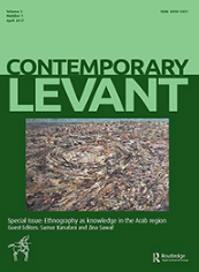 Contemporary Levant is an international, multidisciplinary, peer-reviewed journal publishing papers on the contemporary politics, society and culture of the Levant region and its diasporas and neighbouring countries.
Topics covered by the journal span from anthropology, sociology, politics, religion and theology to cultural studies, modern history, social geography, media, film studies and literature.
Established in 2016, Contemporary Levant is published twice a year.
Contemporary Levant can be accessed online at Taylor & Francis.
---
Article submissions
Subscribing to Contemporary Levant
Contemporary Levant Prize for Best Article
Editorial board
Copyright
---
Contemporary Levant current issue: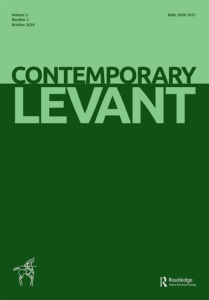 Contemporary Levant latest articles:
Karèn Sanchez Summerer, Philippe Bourmaud, Séverine Gabry-Thienpont, Marie Levant & Norig Neveu:'Reconstructing babel': Christian missions and knowledge production in the Middle East, nineteenth-twentieth century
Sarah Irving: Palestine's Syriac Orthodox community and the Dead Sea scrolls
Bernard Kronnegger: A schism in the Melkite Church? The conflict surrounding the seminary of Saint Anne during the Mandate period
Contemporary Levant past issues: