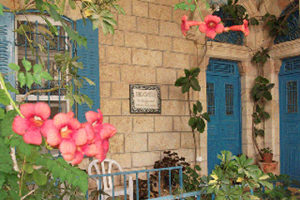 Update: 15 April 2022
CBRL Kenyon Institute Jerusalem (KI)
The Kenyon Institute (KI) officially re-opened its hostel in March 2022 after the lifting of most travel and health restrictions related to the global COVID-19 pandemic that had prevented hosting public events or receiving guests.
The KI dormitory has six rooms capable of hosting up to ten guests, available at affordable rates to members – 3 shared rooms, 2 singles and a room for a couple. We have two communal bathrooms, a dorm common room, laundry facilities and a common kitchen. Some rooms also have sinks.
The KI aims to provide a comfortable and secure facility for our residents capable of fostering a climate conducive to productive study, community building and leisure. Residents are expected to abide by a code of conduct when in residence.
If you would like to request accommodation at the KI please follow this link. CBRL membership is a requirement for residency —see here.
KI Library
The KI library is currently closed to the public as we complete renovations and establish final protocols for membership and use.
Renovations aim to address the longstanding need for more workspace while improving the security of our unique collection.
Keep checking our website for updates on our library re-opening.
Other KI Facilities
The KI has upgraded other aspects of its facilities during the 'Covid-19' closures. We now have a 12-person teleconference/meeting room; a podcast recording studio and additional project workstations with fibre optic internet. The lower storage room has also been renovated to accommodate project workspace. The central library hall will also be able available to host lectures and seminars for a limited audience.
Overall these renovations aim to equip the KI with the necessary physical and digital infrastructure and equipment for realising a new 'hub' vision, that increases research and networking activity, while also generating revenue from rental of new spaces and equipment.
If you are interested in any of these spaces to run your activity please contact us to discuss your ideas at the following e-mail address: jerusaleminfo@cbrl.ac.uk.
CBRL Amman Institute
The Amman Institute has reopened by appointment following its recent move to Jabal Al-Luweibdeh.
Appointments can be made by writing to: jordaninfo@cbrl.ac.uk.
Our new street address is: CBRL Amman Institute, 6 Al-Baouneyah Street, Qaiwar Complex, Jabal Al-Lweibdeh, Amman, Jordan.
Our new postal address is: CBRL Amman Institute, P.O. Box 9124, Amman, Jordan 11191.
Telephone: +962 6 462 2105.
Archaeological equipment hire is now available through AlRaqeem. AlRaqeem offers high-quality community-based logistic services to projects operating in archaeology and heritage protection in Jordan. For more details, please email: info.alraqeem@gmail.com.
Resources for those travelling internationally to the CBRL's institutes
Foreign, Commonwealth and Development Office (FCDO) Travel Advice here
"Entry to Israel" Government requirements
Comprehensive information on Israel's Covid related restrictions can be found here
UK "Travel Abroad and Coronavirus" guidance
UK Consul General Jerusalem website
UK British Embassy Amman website
Jordan Ministry of Health, the official website of the Jordanian Ministry of Health | Coronavirus disease (moh.gov.jo)
Visit Jordan webpage: Visit Jordan (gateway2jordan.gov.jo)