CBRL invites academics, students, researchers and anyone interested in the Levant to join our community of member supporters. Becoming a member contributes directly to supporting the next generation of scholars working on and in the Levant.
As a learned society over the last 100 years, CBRL is proud to have been supported by its membership and values the role members continue to play in our community and shaping our future.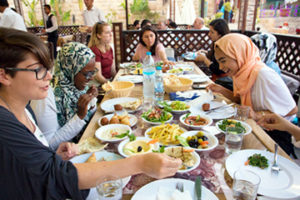 Become a member
CBRL members are an integral part of our organisation and can help to shape the way we work.
An annual membership subscription costs £30 or £15 for students and concessions. Membership is for one year from the date of joining. You can choose to pay for a single year or opt for recurring, annually renewable membership.
The benefits of CBRL membership include:
access to purchase add-on subscriptions to CBRL's peer-reviewed journals Levant and Contemporary Levant at a cost of £25 each;
updates from CBRL's research, funding opportunities and other activities via our monthly newsletter;
invitations to events across the UK, the Levant and online;
the right to attend CBRL's Annual General Meeting (AGM), with the power to vote and nominate candidates and stand for election to CBRL's Board of Trustees;
the right to book residential accommodation at the CBRL Kenyon Institute, Jerusalem (subject to availability and terms and conditions).