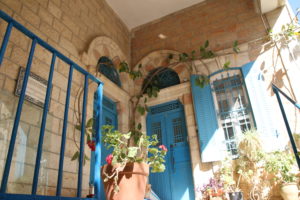 The Kenyon Institute (KI) is the home of British research and intellectual life in Israel/Palestine. The KI acts as the Jerusalem branch of CBRL and has become a hub for local and international researchers from diverse fields.
We cater to the humanities, social sciences and all academic disciplines supported by the British Academy. CBRL funds visiting research fellows each year, some of whom elect to stay in residence at the KI. The KI also hosts British, international and local scholars at our regular lecture series, while occasionally organising and hosting conferences and workshops. Several research projects affiliated to the KI also make use of our facilities. 
The KI boasts excellent research and outdoor facilities, thanks in part to its prime location in East Jerusalem's Sheikh Jarrah neighbourhood in a late Ottoman villa. 
10 October 2023: The Kenyon Institute hostel and library is currently closed due to the ongoing security situation.
The KI can be contacted at the following email address: jerusaleminfo@cbrl.ac.uk
Directors of the BSAJ and KI
Toufic Haddad (2020-present)
Mandy Turner (2012-2019)
Omar Shweiki (Acting Director, 2011-2012)
Jaimie Lovell (2008-2010)
Yuri Stoyanov (2006-2008)
Joanne Clarke (Acting Director, 1997-1998, Director 1998-2001)
Richard P. Harper (1984–1998)
Rev. Canon John Wilkinson (1979–1984)
P. Stanley Price (Acting Director, c. 1978–1979)
Crystal-M. Bennett (1970–1978)
Basil Hennessy (1966–1970)
Kathleen Kenyon (1951–1966, Resident Director from 1956)
George Kirk (1940–1947)
Philip Langstaffe Ord Guy (1935–1939)
John Winter Crowfoot (1927–1935)
John Garstang (1920–1926)