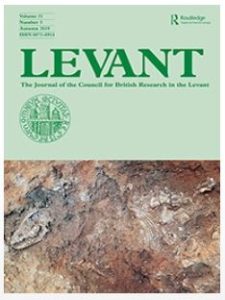 Levant is an international peer-reviewed, multi-disciplinary journal publishing papers on the archaeology and history of the Levant region, its diasporas and neighbouring countries (prehistory–Ottoman).
Areas of research covered by the journal include anthropology, archaeology, environmental science, heritage studies and industrial archaeology.
Established in 1969, Levant is published three times per year and includes both original research papers and short reports. Levant can be accessed online at Taylor & Francis.
---
Article submissions and special issues
Subscribing to Levant
Levant prizes
Editorial board
Copyright
---
Levant current issue: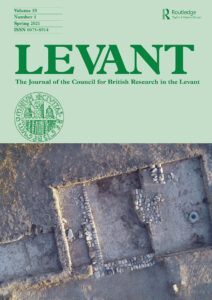 Levant latest articles:
Michael Fradley: British inter-war aerial photogrammetric mapping in the MENA region: archives, access and research potential
Letty ten Harkel & Michael T. Fisher: The EAMENA database and its potential impact on research and heritage management: a case study of Crusader heritage in Lebanon
Ian Elliot McElroy: Constructed contrasts and manipulated experiences: the cathedral at Gerasa and its relationship with the adjacent Temple of Artemis complex
Levant past issues:
2021
2020
2019
2018
2017
2016
2015
2014
2013
2012
2011