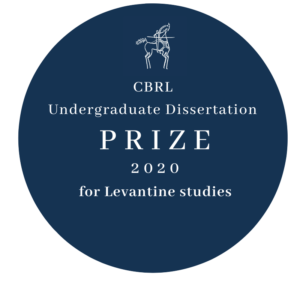 We are delighted to announce the winners of CBRL's 2020 prize for Best Undergraduate Dissertation in Levantine studies.
The prize for the Contemporary Levantine Studies category has been awarded to Alice Chancellor, who graduated from the University of Bristol with a degree in Politics and International Relations. The prize for Levantine Archaeology or History has been awarded to Lucie Collett, who graduated from the University of Reading with a degree in Ancient History and Archaeology.
Last year, CBRL invited UK based heads of departments and chairs of departmental examination boards to nominate one final year first-class dissertation in Levantine studies, ancient or contemporary.
The prize evaluating committee, made up of CBRL trustees, commented that the winning dissertations showcased ambitious, impressive and original research, underscored by a thorough review of the relevant literature.
Congratulations to our winners.
Undergraduate Dissertation Prize 2020 for Contemporary Levantine Studies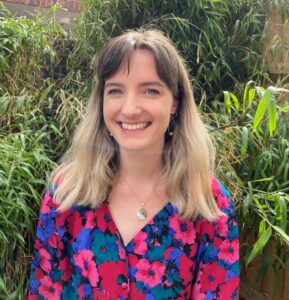 Alice Chancellor
Dissertation title: The women want the fall of the (gendered) regime: In what ways are Syrian women challenging state feminism through an online feminist counter-public?
"My dissertation utilised a feminist post-structural lens to examine the ways in which Syrian female journalists are able to challenge the gender discourse of the Bashar al-Assad regime.  
Grounded in Judith Butler's performativity theory and Nancy Fraser's work on subaltern counter-publics, I looked at whether the emergence of new and independent media post-2011 had created an alternative online space, where the patriarchal discourse of Syrian state feminism could be countered. A series of seven interviews with women participating in emerging Syrian media revealed that, to varying extents, alternative gender identities and discourses could be enacted within this new online feminist counter-public.  
This dissertation was written as part of my undergraduate degree in Politics and International Relations at the University of Bristol. I am now completing a Master's degree in International Journalism at City, University of London. Next year I hope to be pursuing my passion for research and broadcast journalism in the Levant region."
Undergraduate Dissertation Prize 2020 for Levantine Archaeology or History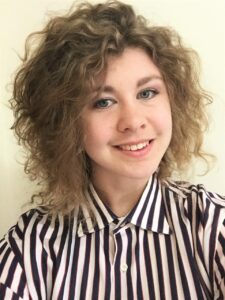 Lucie Collett
Dissertation title: How were temples used? A spatial analysis of 3rd millennium BC Mesopotamian temples
"For my dissertation, I designed a unique, multi-angled approach – combining visual spatial analyses, quantitative data, and theories of phenomenology – to analyse the specific use of three third millennium temple complexes at the site of Tell Brak. My main focus was to understand the roles that layout, architectural forms, and movable artefacts had in delineating spaces for different uses. As is well established, large temple complexes from this period in Mesopotamian history often encompassed a variety of functions from religious to political to day-to-day working activities (such as food preparation, manufacturing, and trade); I intended to develop a clearer picture of how these activities manifested at a local level, before placing these temples into the wider political, social, and religious landscape of north and south Mesopotamia. 
My findings supported the hypothesis of temples as mainly multi-purpose establishments, where architecture was utilised to control and define spaces and their access. Religious practice itself remained difficult to interpret, but similarities in layout of religious spaces across Mesopotamia were identified; alterations made to these and other spaces over time were linked to contemporary changes in the political landscape, namely Akkadian expansion under the deified Naram-Sin, who most likely utilised religious spaces as tools to spread his own ideology and establish unified control over what can arguably be called an empire. Ultimately, my results indicate the use of spatial analyses in combination with wider theoretical debates to engage with a range of research questions, from the micro to macroscopic.   
Since graduating, I have secured a position as an Archaeologist with MOLA, based in Northampton. I am enjoying gaining practical archaeological experience and have worked on a number of different multi-period sites. I thoroughly enjoyed my time at university, and thus look forward to returning to pursue a master's degree in the future."